The Security Assessment process designed by TRUSYS has been used to effectively perform hundreds of assessments at manufacturing, corporate, high end residential and government facilities over the past 35 years. The evolution of our processes has allowed us to capitalize on previous assessments to develop a more balanced and well thought out assessment while utilizing security standards, best practices, policies and regulatory requirements. We incorporate your business operations, processes, environment, risks, vulnerabilities and threats and work with you to drive the assessment: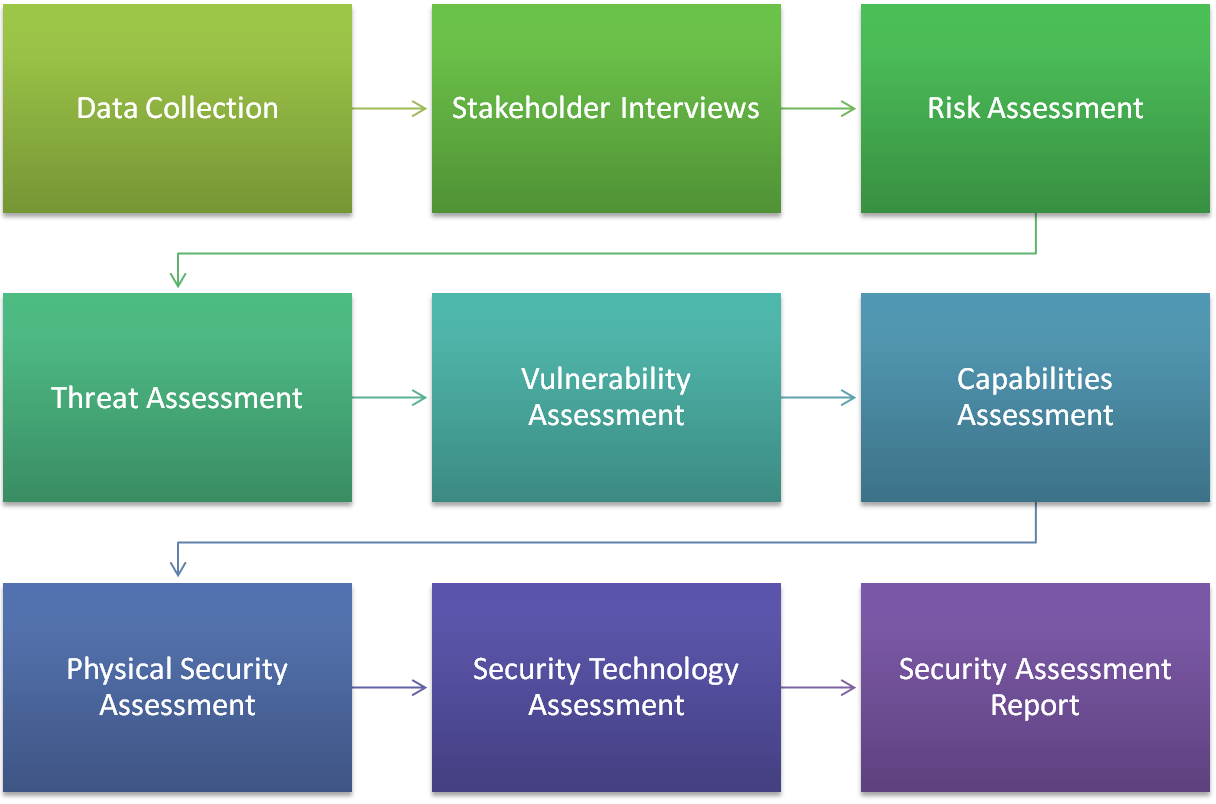 Data Collection
Initially, prior to coming to your facility we will request documents to use during the assessment. These may include architectural plans of the site and buildings, copies of existing security policies and procedures, samples of forms, employee handbook, prior Risk, Threat, Vulnerability and Capability Assessments, and other items that would affect the security of the facility.
Stakeholder Involvement
We work with you to identify the internal and external stakeholders necessary to carry out the assessment. The goal is a good cross-representation of the business. We will start with a comprehensive interview with the key stakeholders responsible for security for the facility. Following the interviews, or as part of these interviews, it will be necessary to inspect the physical environment.
Risk Assessment
Conducting the Risk assessment is where we review and prioritize the risks, situations and recognized threats and hazards.
Threat Assessment
The Threat assessment provides an analytical process to consider the likelihood that a specific threat will endanger the system.
Vulnerability Assessment
Based on the Risk and Threat assessments, we will evaluate the vulnerability of your facility to determine how susceptible you are to the risks and threats.
Capabilities Assessment
The capabilities assessment brings together the risks, threats and vulnerabilities against your existing efforts, plans, operational procedures and methods.
Physical Security Assessment
The Physical Security Assessment evaluates the security infrastructure, hardware, governing policies, and programmatic and procedural standard operating procedures. We will conduct detailed inspections of the facility and site. We inspect and review night time operations including taking lighting measurements of the facility. We document all aspects of our assessment with digital photographs.
Security Technology Assessment
The Security Technology Assessment is used to identify the appropriate security technologies in order to protect the human and physical environment of the facility. Technology is a key factor insuring resilience to mitigate the threats and vulnerabilities as part of the Physical Security plan.
Security Assessment Report
Following our visit, we develop the Security Assessment Report where we identify your critical assets, analyse threats, review past losses, crime statistics, evaluate existing security measures, and identify potential weaknesses and areas for improvements. Our findings occasionally require additional examination and review that requires a request for additional documentation or an additional visit to your facility. Included as part of our report are compliance with best standards, practices and regulations such as CPTED, C-TPAT, FISMA, CFATS, OSHA, NFPA, FEMA, and ASIS. After our Final Draft is complete, client input and comment is obtained. Once all information and input is obtained we issue the Security Assessment Report and Improvement Plan.