TRUSYS can harness the performance of technology to defend your organization.  Security technology has become a necessary element in the security program by facilitating compliance, audits, and controls that are now obligatory for most organizations.  It is a well known fact that security technology if not implemented correctly can leave you just as vulnerable.  TRUSYS specializes in designing solutions that match your organizational culture, requirements, and actual risk.  We represent you independently from dealers, re-sellers, and manufacturers ensuring your interests are looked after.
[toggle title="Command and Control Solutions"]Space, staff, and budget can be limited to new security operations. TRUSYS designs and recommends cost effective and efficient solutions for security operations. Command and Control stations are centralized units that deal with organizational issues such as security, network, facilities, or all of the above. Information is supplied by the various systems and decisions are actively made detailing appropriate responses. TRUSYS has designed many spaces optimized for function and providing optimal operational conditions.[/toggle][toggle title="Physical Security Information Management (PSIM)"]Security investments are costly and integration is becoming more of a requirement for legacy systems. PSIM offers a customized approach to integration. TRUSYS supports a clients need for deployment and supplies requirements that assist in the applications operation based on the needs of the business.
PSIM offers a way to blend security and business applications seamlessly so that instead of individual processes for IP Video, Access Control, etc., a single platform is used to combine information for total situational awareness. PSIM leverages existing investments to provide convergence instead of purchasing new fully integrated software. TRUSYS supports the client team in the decision and implementation process.[/toggle][toggle title="Visitor Management"]In many front lobbies, visitors may not be challenged to enter a facility which can degrade the quality of an access control system. Employing a Visitor management solution can be the key to limiting unregistered access. TRUSYS understands all processes required to employ a successful station.
Visitor Management offers an opportunity for increased security to an access control solution. Visitor Management is an effective way to badge, register, and track entry of new personnel to a facility. TRUSYS provides recommendations for visitor management systems and offers best practices for a successful deployment.[/toggle][toggle title="Video Surveillance"]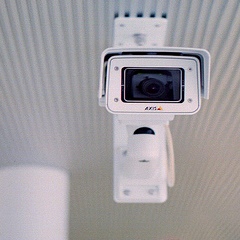 When designing a IP Network Video System, many owners need assistance in appropriately sizing devices to suite the application. Lens, storage, server, & bandwidth calculations must all be considered. TRUSYS will guide this process through to completion while verifying that all system business needs are being met.
Network Surveillance is used to deter crime, monitor traffic of both people/assets, and help retroactively assist with issue resolution. Video analytics can also be used to assist business units outside of security for people tracking, POS metrics, object detection, and others. TRUSYS plans a strategy for deployment that best supports a client's needs, providing guidance and instruction for the selection and specification of an appropriate system.[/toggle][toggle title="Network Infrastructure"]Network infrastructure operates as the communication backbone of all facilities today with more and more technologies leveraging its capabilities. From simple IP phone connections to complex data center deployments a user needs a partner who is familiar with all structured cabling applications. TRUSYS supports all levels of network infrastructure design and can insure effective implementation and deployment.[/toggle]
[toggle title="Access Control"]TRUSYS has helped a number of organizations to strategically employ enterprise level access control strategies. This has reduced operational costs, created a repeatable methodology, and improved standardization throughout several organizations. TRUSYS supports the operations of the security strategy so the benefits of the system are fully realized.
Access Control is critical to the management of people moving through a facility. System design should incorporate methods to mitigate risk to people, processes, assets, and information. TRUSYS understands the appropriate placement of access control devices and prepares designs that are in line with the budget and requirements of the client. TRUSYS provides opportunities for value added design throughout a project life-cycle.[/toggle]
[toggle title="Mechanical and Electronic Door Hardware"]Security integrators and door hardware installers can select hardware that doesn't conform to codes and standards with little or no validation. This adds liability to any involved when life safety issues arise. TRUSYS understands life safety requirements and will design a solution that is robust for the application and meets all requirements. TRUSYS will manage the hardware installer to ensure that all codes and standards are being met.
Electronic locking hardware is a necessary part to any access control systems. Signals are sent from the access control system to deny or accept entrance to a space, electronically activating the lock. Selecting appropriate hardware can be very detailed and requires that several stakeholders communicate to make installation successful. TRUSYS can guide this process through to completion and verify that all codes/standards are met.[/toggle]
[toggle title="Intrusion & Burglar Alarm"]The ability to detect unauthorized access into your facility is vital to a building's security. Systems are often turned off and remain inactive due to false alarms rendering an investment to these systems nearly useless. TRUSYS provides quality assurance and commissioning services to assure that the system operates as designed and can remain activated.
Intrusion detection systems act as a line of defense and provide security to a facility by monitoring access points. Where a breach is detected, a notification is sent to a monitoring service or guard station to assess the incident and provide resolution. TRUSYS effectively lays out each device point, plans operational schedules, and consults on appropriate responses.[/toggle]
[toggle title="Emergency Voice Communications"]Many facilities only employ a set number of security staff to handle issue resolution. By placing intercom and audio devices throughout a site, a security guard can more effectively monitor their post and respond immediately during an issue. TRUSYS provides design services and recommendations as to where voice communications provide the most benefit.
Voice communications are used across facilities as a remote talking point for security staff. With these communication points a security guard can respond quickly and effectively to determine the urgency of an issue. TRUSYS provides design services and recommendations as to where voice communications provide the most benefit.[/toggle]