Physical Security consists of proactive countermeasures used to avoid or mitigate the possibility of loss or damage to assets. TRUSYS is well versed in the methods and techniques of hardening and guarding against external and internal security threats. Our approach is comprehensive, combining operational, physical and electronic countermeasures to ensure physical security is applied effectively. Our philosophy is to design security ubiquitously throughout our client's environments providing highly effective and reliable solutions. TRUSYS provides physical security services in strategy, design, engineering and execution in order to enable our clients to focus on their core business.
TRUSYS Provides strategy, design and services in the following ways:
[checklist]
Corporate Security Strategy
Security Management Consulting
Security Incident Response
Threat, Risk and Vulnerability Assessments
Security Technology Consulting
Planning, Design and Engineering
Standards Development
Policies, Procedures and Audits
Embedded Resources
[/checklist]
Security Assessments
The Security Assessment process designed by TRUSYS has been used to effectively perform hundreds of assessments at manufacturing, corporate, high end residential and government facilities over the past 35 years. The evolution of our processes has allowed us to capitalize on previous assessments to develop a more balanced and well thought out assessment while utilizing security standards, best practices, policies and regulatory requirements. We incorporate your business operations, processes, environment, risks, vulnerabilities and threats and work with you to drive the assessment: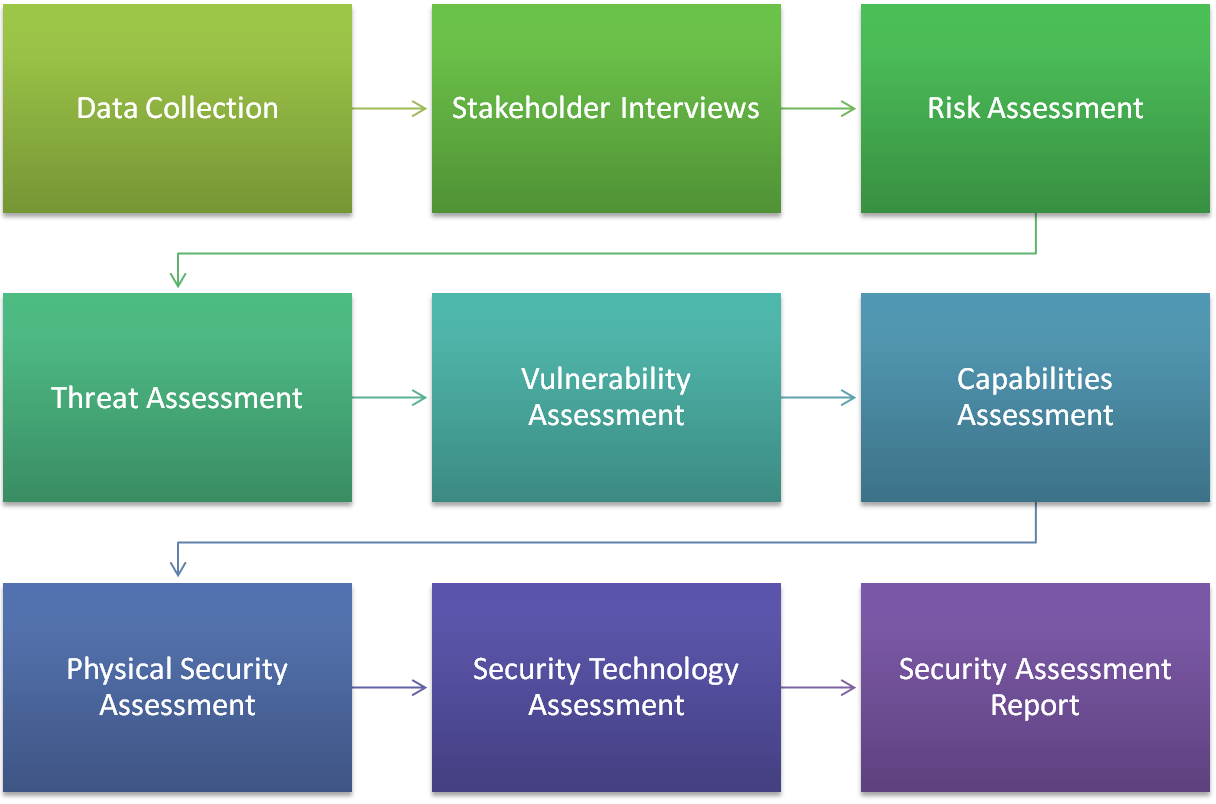 [toggle title="Data Collection"]Initially, prior to coming to your facility we will request documents to use during the assessment. These may include architectural plans of the site and buildings, copies of existing security policies and procedures, samples of forms, employee handbook, prior Risk, Threat, Vulnerability and Capability Assessments, and other items that would affect the security of the facility.[/toggle]
[toggle title="Stakeholder Involvement"]We work with you to identify the internal and external stakeholders necessary to carry out the assessment. The goal is a good cross-representation of the business. We will start with a comprehensive interview with the key stakeholders responsible for security for the facility. Following the interviews, or as part of these interviews, it will be necessary to inspect the physical environment.[/toggle]
[toggle title="Risk Assessment"]Conducting the Risk assessment is where we review and prioritize the risks, situations and recognized threats and hazards.[/toggle]
[toggle title="Threat Assessment"]The Threat assessment provides an analytical process to consider the likelihood that a specific threat will endanger the system.[/toggle]
[toggle title="Vulnerability Assessment"]Based on the Risk and Threat assessments, we will evaluate the vulnerability of your facility to determine how susceptible you are to the risks and threats.[/toggle]
[toggle title="Capabilities Assessment"]The capabilities assessment brings together the risks, threats and vulnerabilities against your existing efforts, plans, operational procedures and methods.[/toggle]
[toggle title="Physical Security Assessment"]The Physical Security Assessment evaluates the security infrastructure, hardware, governing policies, and programmatic and procedural standard operating procedures. We will conduct detailed inspections of the facility and site. We inspect and review night time operations including taking lighting measurements of the facility. We document all aspects of our assessment with digital photographs.[/toggle]
[toggle title="Security Technology Assessment"]The Security Technology Assessment is used to identify the appropriate security technologies in order to protect the human and physical environment of the facility. Technology is a key factor insuring resilience to mitigate the threats and vulnerabilities as part of the Physical Security plan.[/toggle]
[toggle title="Security Assessment Report"]Following our visit, we develop the Security Assessment Report where we identify your critical assets, analyse threats, review past losses, crime statistics, evaluate existing security measures, and identify potential weaknesses and areas for improvements. Our findings occasionally require additional examination and review that requires a request for additional documentation or an additional visit to your facility.  Included as part of our report are compliance with best standards, practices and regulations such as CPTED, C-TPAT, FISMA, CFATS, OSHA, NFPA, FEMA, and ASIS. After our Final Draft is complete, client input and comment is obtained. Once all information and input is obtained we issue the Security Assessment Report and Improvement Plan.[/toggle]
Design Process

[toggle title="Assessment"]The goal of the Assessment is to develop a comprehensive understanding of the site security challenges before treatments are applied.  Technology is one of the four elements (Teams, Techniques, Technology, and Training) used to mitigate risks and may not always be the appropriate solution to the challenge.  Therefore a  complete understanding of the business risks must first be understood before the solution is achieved.
Tasks

Review the site conditions and security operation with stakeholders.
Evaluate how the present security methods including physical barriers, technology, and process are being used.
Gather information necessary for developing the solutions.

Value

Provides stakeholders with a comprehensive understanding of the security condition.
Leverages existing investments to close gaps saving money on the solution.
Ensures solutions are not over engineered and are appropriate for the risks being addressed.[/toggle]
[toggle title="Programming"]Programming is the process of making decisions about how the security treatments will be applied.  In the case of a camera, it is important to start with defining the objective rather than the technology.  If the objective is to be able to identify a person the requirements are different than if the purpose is to only detect that someone is present.  Programming ensures that technology or other security treatments align with the business goals to reduce risk.
Tasks

Site walk and data gathering as required to support project feasibility and design.
Develop a design concept.
Identify equipment functional requirements.
Facilitate client review and acceptance of concept.

Value

Improves the overall performance of the investment by clearly defining the purpose of each equipment.
Ensures decisions made about each investment are appropriate and reduces risk.
Gets everyone on the same page, people agree, and the business is satisfied with the process.[/toggle]
[toggle title="Design"]
The design provides a detailed level of information that is used in multiple phases of the life of the technology and equipment.  The four phases the design will add value to the business are in the planning, construction, maintenance, and upgrade phases.  In all areas the design will be used to maximize the return on investment, from improving the quality and performance of the investment to reducing costs.
Tasks

Perform engineering research to help identify and select appropriate equipment.
Develop infrastructure drawings.
Conduit and raceway, electrical materials, network requirements, and power.
Develop detailed installation information for contractors for bidding and installing.
Bill of quantities (BOQ), material lists, programming matrices, detailed installation information including mounting details and wiring diagrams.
Conduct multiple design review meetings with stakeholders.
Coordinate with all trades related to interface of security technology and infrastructure.
Issue final tender documents.

Value

Clearly documents the requirements and avoids design conflicts, which protects against change orders.
TRUSYS consistently guards against un-warranted requests for additional money by contractors because the requirements are defined before the tender.
Adds specialized knowledge to the project which helps our client by knowing how to manage implementation challenges the right way.
Elevates the quality by holding contractors accountable for their work quality.
Provides comprehensive documentation for the maintenance of the system for years to come.[/toggle]
[toggle title="Specifications"]
The purpose of the specifications is to put in writing and contractual bind the contractor to minimum performance requirements.  These performance requirements are measurable and can be use to hold the contractor accountable to our expectations for the duration of the project in into the warranty period.
Tasks

Documents the performance requirements related to the following topics:
Language
Procedures
Material Substitutions
Coordination and Supervision
Quality
Project Management
Safety
Products
Acceptance
Warranty

Value

Documents the performance requirements and expectations of the client so that the work performed by the contractor is measurable.
Protects the client from a multitude of scenarios where the contractor might indicate that they were not told to perform certain services guarding against change orders (requests for additional funds).[/toggle]
[toggle title="Bid / Tender Process"]
A competitive tender process is the only way we can confidently know that you have paid the best fair market value for the security equipment you are going to purchase.  By defining the project requirements in the specifications we can ensure the products and equipment purchased aligns with the goal.
Tasks

Prepare the tender documents package that bidders will respond to.
Review estimates from bidders and scrutinize hidden or unnecessary costs, saving money.
Ensure the bidder has a complete understanding of the project requirements.
Facilitate the selection of the most qualified bidder.

Value

Ensures that the quotations received are the most competitive offers, saving money.
Provides an opportunity to cut out services and fees that are not required, saving money.
Simplifies the process for the purchasing team to by using the requirements stated in the design and specifications and deferring to the technical team for answers to questions.[/toggle]
[toggle title="Project Oversight"]
Project Oversight is the method of monitoring schedule, resources, and quality in order to control and predict when the project will be completed.  The role of the construction manager is to anticipate conflicts and manage resolutions in a timely manner.  This role demands deep expertise with the construction process and specific knowledge about how security integrates with the rest of the building.
Tasks

Initial project kickoff (onsite) and ongoing coordination of contractors
Interface with project stakeholders and establish expectations
Coordination of construction team requirements
Develop detailed project schedule
Communicate regularly with project stakeholders
Regular progress and issue tracking reporting
Regular onsite supervision of trades

Value

Resolve issues as they happen versus waiting until the end to determine that something has not gone according to plan, ensures quality is built in during the process and not fixed at the end.
Ensure the project is implemented on time.
Keep all stakeholders informed of progress at all levels of the project.  Have confidence that the information is accurate and not biased.[/toggle]
[toggle title="Commissioning & Acceptance Testing"]
Commissioning ensures that what was purchased is what was installed and that the contractor met the project requirements stated in the design and specifications.  Closeout the project and begin the warranty period in confidence.
Tasks

Complete acceptance testing process.
Create and resolve punch list items with vendors.
Provide equipment/system testing and commissioning documents.
Reconcile construction drawings and provide as-builts.
Post completion project review and lessons learned.

Value

Ensures that all aspects of the project have met the project requirements confirming that what was purchased was completed.
Holds contractors accountable to closing out the remaining tasks such as training, labeling, documentation, and more.[/toggle]
[toggle title="Lessons Learned"]
Lessons learned meetings ensure that the next project benefits from a continuous improvement process.[/toggle]
Strategy, Design and Services
TRUSYS specializes in physical security and delivers this value through strategy, design and services catered to our client's needs.  We develop global security strategies for our clients in need of long range planning.  This helps to ensure there is vision for security and that the plan is aligned with the business requirements.  Our experts support the security strategy in many ways through assessments, planning, design, project oversight and commissioning.  Our people have deep expertise in physical security spanning several industries and borders.
Why Choose Us?
Protecting your business value is our core business.  TRUSYS focuses on your risks.
We are competent in our field; trust us we know what we are doing.
We always save our clients money.  We understand how to avoid risk.
We follow industry recognized methods.  We bring the best methods to you.
We are committed all the way.  Whether a small task or multi-year project, we commit to see it through.
[checklist]
TRUSYS Provides strategic services that help our clients to prevent or reduce the impact of disruptive events. We have senior consultants with decades of experience managing risk in your field.
We support your projects with specialized skills in assessments, design, and project management to improve quality and reduce costs. We have proven methods to help you steer clear of risk whether in your existing facilities or when you build new facilities.
TRUSYS provides resources to manage specialized day-to-day business functions within our clients environment to ensure compliance and quality. We customize our services to meet your needs and provide the right people to take on short term and long term engagements.
[/checklist]