[slider]
https://theme-fusion.com/avada/wp-content/uploads/2012/08/service1.jpg
https://theme-fusion.com/avada/wp-content/uploads/2012/08/service2.jpg
https://theme-fusion.com/avada/wp-content/uploads/2012/08/service3.jpg
[/slider]
[title size="1 to 6″]Organizational Resilience is the ability for an organization to rebound and recover from adversity. [/title]
Organizational Resilience is a highly valuable strategy for every company , institution and government which provides the strategy for managing non-business operational risk. Every day we are confronted in the news with natural and manmade disasters, national and local security situations and otherwise disruptive events across the enterprise that put business operations at risk. Implementing Organizational Resilience prepares your organization for optimal resistance to disruptive events. This is the highest level of risk management strategy in our field which incorporates emergency management, business continuity and continuity of operations. Organizational Resilience is viable for the private and public sector as well as government and institutions.
[checklist]
Strategic Risk Advisory
Threat and Impact Analysis
Tabletop / Audit Exercises
ISO, ANSI, ASIS Certifications
Emergency & Crisis Response
Emergency & Crisis Operations Consulting
Command & Control Center Design
Training
[/checklist]
[toggle title="What is Organizational Resilience (layman's terms)?"]
Organizational Resilience is the ability for an organization to rebound and recover from adversity.
Organization – Includes corporations, governments, non-governmental organizations, not-for-profit corporations, universities, and more.  
Resilience  – The ability to recover from or adjust easily to change or adversity.
Organizational Resilience is being able to adapt to the disruptive events that come in your path, like natural disasters, fire, and security threats.  It is not about achieving success, rather its about protecting the success you have already earned.  The daily news is a perfect source for stories about resilient organizations and not so resilient organizations.  TRUSYS utilizes the ASIS SPC-1.2009 Organizational Resilience standard as a framework to assess, identify, strategize, and implement a internal mechanisms to ensure the organization will be resilient.
Our experts have years of experience providing crisis planning, management, and recovery advisory.  TRUSYS has also developed a management system to help organizations manage the complexities and ensure they are prepared for for the threats that may disrupt their business.   [/toggle]
[toggle title="Methodology For Achieving Organizational Resilience"]Organizational Resilience is the adaptive capacity of an organization, faced with complex and changing risks, threats and disruptive events, to be able to absorb impacts and continue operations with minimal disruption to its employees, stakeholders and the public.  The method you can use to become resilient is called R-SEC.
R-SEC is our methodology to implement Organizational Resilience.  R-SEC is a management methodology that recognizes the risks, threats and the impacts of events that harm the organization are not departmental or corporate responsibilities, rather they are the responsibility of every individual, department and internal/external stakeholder. R-SEC requires teams of people, using the best techniques, the correct technologies, along with regular training.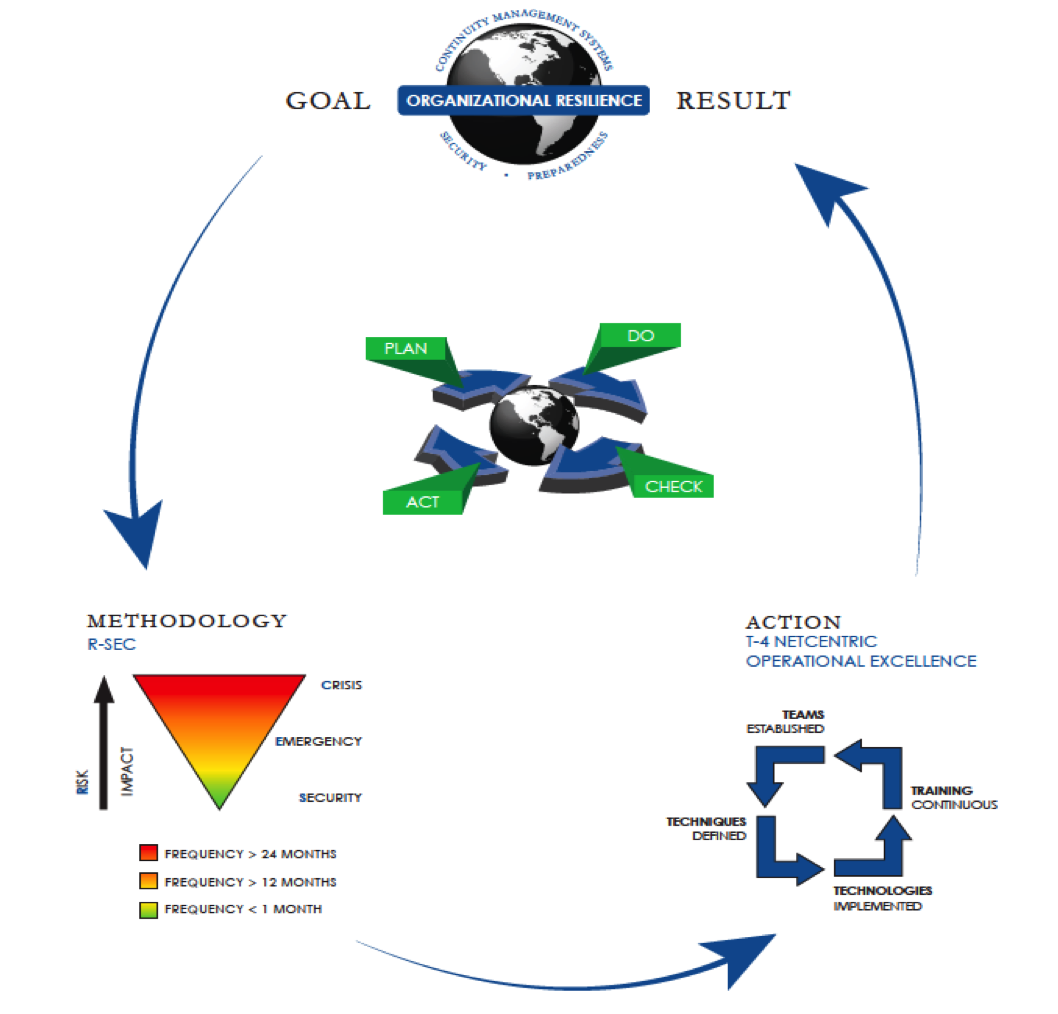 Teams
 are groups of individuals brought together to accomplish a mission.
Techniques are the methods by which the Teams organizationally manage their mission.
Technology are the tools that document, track, monitor and assist the Teams using Techniques to execute their mission.
Training ensures that the Teams know the Techniques, know the Technology, and therefore are able to plan for, exercise and refine  their readiness to accomplish their mission regardless of the risk, hazard, threat or situation.
[/toggle]